Shelby Clamp
Executive Assistant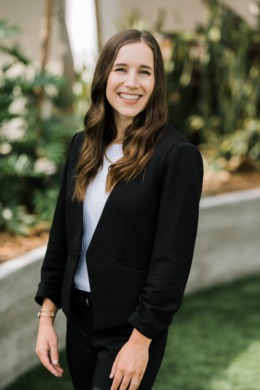 Oftentimes it's the magic makers behind the scenes that keep the day-to-day running smoothly. Enter Shelby Clamp. An irreplaceable member of the Jody Clegg Team, the Redondo Beach native is an integral component of the team's overall success. One part client whisperer and two parts marketing maven, it's no surprise that the Executive Assistant found her calling in real estate.
Passionate about helping others make the life-changing transition of home buying and selling, Shelby is known to lead with empathy. Mindful in her methodology, she strikes the perfect balance between caring and communicative. Adept at anticipating client needs and making the impossible, well, possible, Shelby recently wrote a winning offer that was selected over eighteen competing offers. I think you'll discover that she's as tenacious as she is thoughtful.
Residing just fifteen minutes from Huntington Beach, you may have spotted Shelby walking her beloved pooch Cleo around her West Garden Grove neighborhood. A Cal Poly alum who earned a Bachelor of Science in Kinesiology, the nature enthusiast is equally active in her downtime. Never far from the beach, she's a big fan of paddle boarding, boating, and kayaking, like any self-respecting SoCal native.