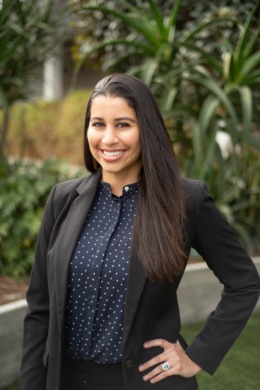 Jenna is a native of Southern California with her Bachelor of Arts in Journalism from the University of La Verne. Jenna has always taken joy in helping people and fur babies find comfort, hence she was naturally drawn to real estate.
Jenna is a natural at identifying the needs of her clients while keeping in mind the ever-changing market. She has an extensive background in helping home buyers and sellers seamlessly identify, purchase and transition into their forever homes.
Jenna is great at personalizing your real estate experience. Contact her today!
Testimonials
Jenna is a rockstar and a gem of a lady and professional. Vince and I had such an amazing experience working with Jenna. She's receptive, communicative, attentive, and easy to work with. She still helps us with questions we have after purchasing our first home. We are so lucky to have had the
opportunity to work with such a great lady and an awesome team. This is our first home, and she made the process smooth and easy to understand. We highly recommend Jenna to be your agent. She's smart, knowledgeable, and finds answers quickly. Her communication skills are on point. Thank You Jenna for being such an amazing person and agent. We are grateful!
Jessica Torres
Incredible agent and an even better person. Jenna is always willing to go the extra mile. She always looked for ways to get results throughout the process while maintaining a positive attitude. Jenna exuded a sense of confidence and poise even in those difficult moments that inevitably occur throughout the
buying process.
Dave Harper
We worked with Jenna Costanzo, as our buyer's rep. Jenna is a fantastic addition to the amazing team over at Jody Clegg and I would highly recommend her. Not only is she extremely responsive, but she is also supportive and knows how to get things done.
Jenna paired with the Jody Clegg Team equaled great success and a fantastic experience. We got the house we wanted and the whole experience was top notch. Thanks Jenna and The Jody Clegg Team!
Dion Trieb
I wanted to take a few minutes to thank you Jenna for a job well done in representing the buyer Dion T. with his real estate purchase.

I have been a mortgage lender since 1979 and have experienced few excellent communicators and negotiators in my career and Jenna is one of them.

She assisted Dion every step of the way with his VA purchase first with helping me communicate to the seller how well qualified Dion was and successfully receive an accepted offer to purchase.
Throughout the transaction the communication was spot on from Jenna which helped my team and I close our VA loan on time.

Keep up the great work and know Jenna's buyers and sellers will cherish working with her.
Dave Horton-Lender