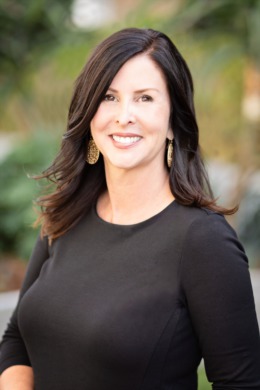 No one knows your neighborhood like a local. Namely, Erin Martin. A lifelong Huntington Beach resident, Erin's summers were spent crisscrossing the neighborhoods on her beach cruiser and playing at the beach. These days, Erin's neighborhood knowhow is just as impressive, elevated by market savvy sensibilities honed by two decades in the industry. 
A top producing agent who is bolstered by a degree in Business/Accounting from Cal State Fullerton, Erin is quick to educate first-time buyers and investors about tax benefits and cash flow opportunities. Having spent a tenure at several Fortune 500 companies, she thrives in a fast-paced environment and has a gift for leading clients through challenging market changes. 
One-part professional advisor and two-parts personal resource, Erin is the consummate advocate. Known for treating her clients like family, she's earned a reputation for being a refreshingly approachable realtor. Never short on humor, clients credit their success to Erin's knack for being calm, confident, and communicative every step of the way.   
When she's not hustling for her clients, Erin unwinds by paddle boarding, kayaking, and hitting the Pilates studio. A mother of two amazing boys, she's abundantly grateful to provide her sons the same childhood she once had. Truth be told, Erin still loves cruising her bike to the beach but now will stop to enjoy the local eateries and partake in a beautiful Huntington Beach sunset.
Testimonials
Erin Martin, with the Jody Clegg Team, is without a doubt the best real estate agent around! My husband and I started working with Erin last fall when we were ready to move out of our townhome and into a single family home. We had a very specific and competitive neighborhood that we wanted to move
into and there weren't many houses available in our price range. Erin worked incredibly hard to find us our dream home. She reached out on Nextdoor, social media, attended broker showings, and even knocked on doors to see who wanted to sell their home. Erin was able to show us homes before they even hit the market and truly understood what we wanted in our future home for our family. After searching for several months, we finally found the perfect home for our family. Erin and the Jody Clegg Team put our townhome on the market, staged it, and got us an incredible offer all within three days. We were able to make an offer on our new home, and with the help of Erin working so hard for us, our offer was accepted and beat out the other offers. Buying a new home and selling your old home at the same time is always a tough process, but Erin truly helped make everything as easy as possible. She took the time to explain and answer all of our concerns and communicated with us about every detail of our sale and move up property. She also made sure that she was available for inspections and other appointments at our home that we were selling, as well as, our move up property (even when we couldn't be there). Erin really did make everything move along as smoothly as possible. Once we closed escrow and moved out of our old house and into our new dream home, Erin has still been available to help us with any concerns we have had. She is so easy to talk to and is incredibly knowledgeable about the market and the neighborhoods in Huntington Beach. We absolutely loved working with Erin and are so fortunate to have worked with her! I know we wouldn't have gotten the home we have today if it weren't for Erin and her determination to get us into our dream home. We are forever grateful for Erin and highly recommend her for all of your real estate needs.
Valerie and Kyle - Bought and sold a Single Family home in 2019 in Huntington Beach
I highly recommend Erin. I am probably the most eccentric client she has worked with. It took a few months to find the right house and Erin was extremely patient with me. I withdrew two offers, and it didn't phase her a bit. I told her she "was going to fire me', because I kept changing my
mind. She said not to worry, she would find me the right house and she did. During the process, she kept me up-to-date with all the current listings, we saw several listings (including the one I bought) before the listing broker had a public open house.
Frank - Bought a Single Family home in 2018 in Huntington Beach
Purchasing our home was a 30-day marathon, not a sprint - and the usual distractions of having a young family didn't let up. Erin was there for us, 100% of the way. She took the lead when she needed to, and then guided us through other processes that weren't necessarily in her wheelhouse. At the
end of the transaction it was evident that Erin really cared about our family and our home - we could not ask for anything more!
Aaron and Erin - Bought a Single Family home in 2019 in Fountain Valley