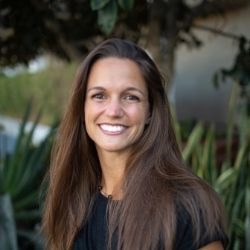 Born and raised in Huntington Beach, California and a graduate of Biola University, Ericka originally began her career in the hospitality industry and has been passionate about serving others ever since. After spending over ten years leading high-performance teams in both restaurants and retail, she entered the world of real estate in 2014 and has never looked back. In addition to her background in building client relations and driving solid results, she intentionally concentrates her efforts on what's most important: connecting personally with each client to create trust and identify their needs, facilitating a smooth and rewarding transaction defined by exceptional value.
As a Southern California native, Ericka offers her clients not only a sincere commitment to one-on-one service but also a specialized knowledge of the local market that only a lifelong resident can provide. Most importantly, she is committed to representing her clients with the utmost respect, honesty, and integrity, treating each transaction as if it was her own.
Currently residing in Huntington Beach with her husband and 3 children, Ericka enjoys spending time outdoors with her family. From riding bikes to park picnics or beach dates, she values quality time spent with close family and friends. She also has a huge heart for hospitality and loves to meaningfully serve others in need. She is honored by every opportunity to earn your business and realize your homeownership dreams!
Testimonials
My husband and I were 1st time home buyers and needed guidance. Ericka walked right beside us during our home buying journey. She helped us secure a viewing of our dream home on short notice, and when we arrived at the home all of us clicked immediately. The conversation between us
was personable and easy - almost like we had been lifelong friends. It was at that moment I knew this was to be my new forever home. We decided to make an offer within a few days, and the offer was accepted! Ericka helped us understand all of the paperwork we needed to complete and sat with us to explain every detail. She spoke with our lender as well and helped us navigate through that process. The entire process went smoothly with Ericka's help. She even came over on moving day and helped us out. It was a blessing to have Ericka walk with us during this process. I would not hesitate to recommend Ericka to walk with you during your home buying journey. Thank you, Ericka!
Brian & Lori S. | Buyer
Ericka was so great to work with. She helped us to get our home ready for market, worked hard to get a lot of foot traffic through our open houses, and sold our home for over the asking price that we had hoped for! She was easy to work with, and her communication was clear! We will definitely use
her again for any home buying or selling needs!
Ken P. | Seller
Ericka was absolutely amazing!! It was our first time buying a house, but she made the whole process so easy and fun! She was always very responsive and had our best interest in mind the entire time, and was able to find us exactly what we wanted. We are so grateful for all of her help and will
absolutely be giving her a call if we ever need a change.
Brittney G. | Buyer
We had a great experience working with Ericka. Ericka's responsive attention made the sale of our home quick and effortless. We are very pleased with Ericka and the service we received, and we feel like a friend was there to walk us through the stressful process. She is very professional and
personable, and that makes for a great Real Estate Agent. Most importantly, she made sure that our interests were her main focus. I would work with her again in a heart beat and highly recommend her.
Ana S. | Seller
Ericka was great walking us through a crazy home buying and selling experience. She was very communicative and responded right away to questions. She always kept a positive attitude, and I'm glad she was on our side when some issues concerning the people purchasing our home arose.
Mike & Megan C. | Seller & Buyer
More Testimonials