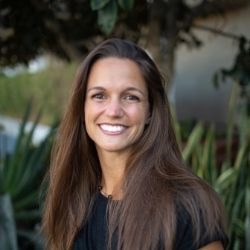 Born and raised in Huntington Beach, California and a graduate of Biola University, Ericka originally began her career in the hospitality industry and has been passionate about serving others ever since. After spending over ten years leading high-performance teams in both restaurants and retail, she entered the world of real estate in 2014 and has never looked back. In addition to her background in building client relations and driving solid results, she intentionally concentrates her efforts on what's most important: connecting personally with each client to create trust and identify their needs, facilitating a smooth and rewarding transaction defined by exceptional value.
As a Southern California native, Ericka offers her clients not only a sincere commitment to one-on-one service but also a specialized knowledge of the local market that only a lifelong resident can provide. Most importantly, she is committed to representing her clients with the utmost respect, honesty, and integrity, treating each transaction as if it was her own.
Currently residing in Fountain Valley with her husband and 3 children, Ericka enjoys spending time outdoors with her family. From riding bikes to park picnics or beach dates, she values quality time spent with close family and friends. She also has a huge heart for hospitality and loves to meaningfully serve others in need. She is honored by every opportunity to earn your business and realize your homeownership dreams!