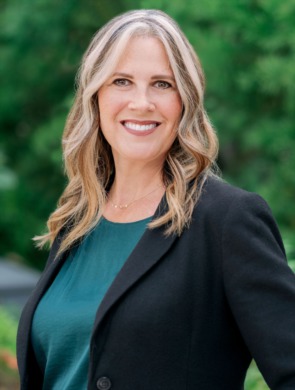 The business of real estate may be about selling homes, but Dionne Veronin couldn't be farther from a salesperson. Bolstered by a background in education, including a Master's degree in early childhood development, the former elementary school teacher has a gift for guiding first-timers through the process.
A market-savvy agent who knows the ins and outs of real estate, Dionne approaches every interaction as an opportunity to educate her clients about the buying and selling process. Ultimately, she has an earnest desire to impart her wealth of knowledge in a way that impacts people's lives for the better. 
In addition, as a long time resident of the Huntington Beach community, and mother to two daughters, Dionne has intimate knowledge of school districts, dining and cultural offerings, as well as the myriad recreational opportunities that make this beach community such a wonderful place to live. Diligent, detail-oriented, and readily available to answer questions – big or small – it is no surprise that Dionne has reached five-star Zillow status. 
So, what's her secret to success? It's simple. Dionne loves helping people. She's genuinely interested in getting to know her clients, and discovering what is important to them from a lifestyle perspective. She applies her findings to secure each client the home of their dreams. 
Residing in the Seagate community, Dionne appreciates the wonderful local schools and close proximity to the beach. When she's not making her clients' dreams a reality, she takes full advantage of all that her coastal community has to offer, including walks on the boardwalk, paddle boarding in Huntington Harbour, and attending yoga classes on the sand. 
Dionne looks forward to representing you and your family with integrity, experience, and expertise. She welcomes the opportunity to work with you.
Testimonials
Dionne was INCREDIBLE and took so much of the stress away when we moved across the country. She was able to point us towards the neighborhoods and parts of SoCal that ticked all of our boxes, and dealt with my freak outs when they popped up. She stuck with us through THREE houses we offered on (bidding wars were big), one we had to pull out of, and finally the third, which we fast tracked to close with her help. She is also a mom, so knew the schools, what to look for in a very new (to us) school system) and how to navigate enrollment, etc. I can not recommend Dionne enough. She is a true professional, but also a friend who has your back when it comes to making the biggest purchase in your life. Call her, tell her what you need, and start shopping!
Michael & Keryn Means
Dionne was wonderful. On top of everything, responsive, knowledgeable, patient with all my questions as a first-tike homebuyer and an all-around joy to be around. Would absolutely use her again!
Tina Mossey
We only have positive things to say about our experience with Dionne Veronin. After our mother passed away, we had so much to do. Dealing with selling her home was something we weren't looking forward to doing. Dionne helped make the process go smoothly. She is extremely knowledgable, which gave us confidence in her ability to guide us in the selling of our mother's home. In the event we are in need of a realtor again, we will definitely call Dionne!
Helen Clark
We loved working with Dionne. She is incredibly responsive, helpful and solutions oriented. She juggled three transactions at once flawlessly and with incredible composure. We highly recommend Dionne.
Seller, June 2021
My family and I met Dionne Veronin when we happened to walk into her "Open House". We were not in the market for buying and we had not even considered selling our house. Nonetheless, we fell in love with this "Open House" which was conveniently located in a neighborhood we always desired. Two days
later we contacted Dionne to help sell our house and get us into that home. We are very pleased to have had the opportunity to work with Dionne during the stressful process of selling and buying a house. She always made it a point to be readily available to address all of our questions and concerns. Dionne and her team were very professional in the way they conducted business, and they were diligent in overcoming every obstacle that rose upon us every step of the way.
Erika Franco-Contreras
More Testimonials