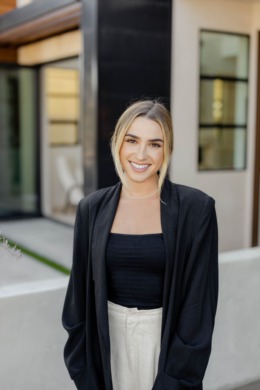 Corinne is a natural empath who embraces all aspects of what a home means to someone, and how each and every room contributes to someone's living experience. A lover of design, she cares about all the little details that are important to a buyer or seller. Prior to her entry into the Orange County Real Estate market, she spent 10 years working in luxury fashion. Beginning her own clothing business and being featured in Cosmo and boutiques worldwide, she knows what it takes to turn a vision into an actionable plan. Having witnessed her mother, Jody Clegg, help so many clients with their own real estate aspirations, Corinne feels like she's spent most of her life in the industry.

A current lover of surfing, yoga, and the outdoors, she never skips a beat on embracing all that Southern California has to offer. She'll happily share all the best local spots, having spent her whole life here in coastal Orange County. Growing up playing a wide range of sports, Corinne has developed a fiery competitive spirit and loves a challenge. She thrives in handling complex situations and negotiations, and takes pride in her ability to collaborate and find solutions for her clients.

Corinne credits her interest in architecture and design as a key factor that motivated her to become a real estate agent, and combines her passion for design, branding, and negotiation to raise the bar on what the home buying and selling experience can be.