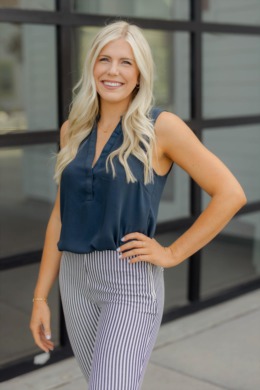 A fresh face in the real estate game, Claire Kirksey has always had a penchant for serving others. It's likely what inspired her to earn a degree in Hospitality Management from Cal State Long Beach. Yet when she realized that real estate provided the same opportunity to serve on a more meaningful level, she quickly changed course. Passionate about crystalizing a client's specific needs and translating those goals into reality, Claire finds no greater satisfaction than helping others put down roots in the beloved community she calls home. 
Born and raised in Huntington Beach just blocks from the sand, the lifelong local affords a near encyclopedic grasp of the area's nuanced neighborhoods. Distinguished by her enthusiasm, work ethic, and compassion for clients, it came as no surprise when she was tapped by the number one brokerage in Huntington Beach. Joining Judy Clegg Team in 2022, Claire was a natural fit. Lauded for her market savvy sensibilities and a perpetually positive attitude, she's got nothing but runway ahead. 
Equally active in her downtime, Claire is never far from the shore. You may have seen her playing co-ed flag football near Balboa Pier, rollerblading the boardwalk, or taking her Duffy boat out in Newport Harbor to dock and dine at the Balboa Bay Club. An avid trail runner and intrepid traveler, her vacations consist of wakeboarding at the lake or scuba diving in the tropics. Suffice to say, this non-stop realtor has just one speed. And it's full throttle.